PAR Foundations
PAR is built from a huge NIH database of neuropsychological testing results which was collected over many years at Wake Forest University. No one else in the world had access to that kind of data. It let the developers of PAR do things no one else could do.
Read the full article at the OnlinePAR website.
Selecting Screening Instruments
Focus on Predictive Validity, Classification
Accuracy, and Norm-Referenced Scoring
A white paper by Steven P. Dykstra, Ph.D.
Click here to view the white paper in PDF format.
Predictive Reading Assessment Offers Educators a Strong New Tool
Though it began with a proposal to study dyslexia, two decades of research has brought neuropsychologist Frank Wood to a different point as a scientist-an advocate for children to read.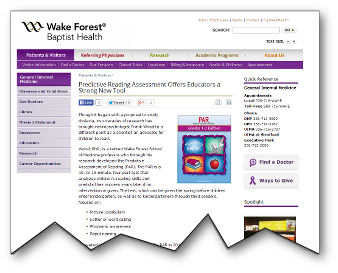 Wood, PhD, is a retired Wake Forest School of Medicine professor who through his research developed the Predictive Assessment of Reading (PAR). The PAR is a 10- to 15-minute, four-part test that analyzes children's reading skills and predicts their success years later if no intervention is given. The test, which can be given the spring before children enter kindergarten, as well as to kindergarteners through third graders, focuses on:
– Picture vocabulary
– Letter or word calling
– Phonemic awareness
– Rapid naming
Read the full story at the Wake Forest® Baptist Health website.